If 2020 has marked the minds, it will not be because of a smashing arrival of deepfakes in the news. The infocalypse that some predicted for the American election in November did not happen. No manipulation upset the course of democracies and the COVID-19 crisis did not serve as a pretext for the mass emergence of these fake videos either. Yet, would we be right to let our guard down? Perhaps not.
❋
This year marks an important step in the development of deepfakes. Until now confined to imaging experts, verification professionals, journalists, and amateurs passionate about artificial intelligence and good tricks, synthetic media have gained in popularity and have now entered the lexicon of the general public. In the last few weeks, if we believe the results of google trends 1Search trends on the query deepfake and on the query fake news, Google Trends, December 2020, the query "deepfake" has even largely exceeded the query "fake news".
The false intervention of Queen Elizabeth on Channel 4 in England or the appearance of Luke Skywalker in the last episode of the Mandalorian season (and the publication of the "corrective" deepfake made by Sham00k) have certainly contributed to extending the sphere of influence of synthetic media to a large audience outside the traditional targets of this type of production, as shown by this tweet that reflects the reactions of many on the networks.
I wasn't fully aware of the extent and potential of #deepfakes until I just watched a program about it on channel 4. Unnerving to say the least…….@GiorgioPatrini @KelseyFarish

Dr Barry McGinn (@DrBMcGinn) December 28, 2020
However, this sudden interest is not only due to these two productions. A slow infusion of synthetic media regularly brings uninformed audiences into contact with manipulated videos and gradually raises awareness even among the most resistant. Let's look back together on a busy year that seems to me to be the first turning point for synthetic media.
🚨 A TRAFFIC OF 120 000 DEEP-PORNS?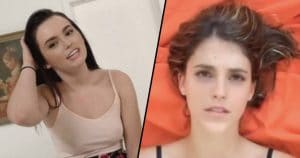 Sensity.ai lists nearly 120,000 threats targeting 3398 personalities, including Scarlett Johansson, Gal Gadot (who was one of the first victims), Margot Robbie or Taylor Swift. This important figure should not make us forget that on the pornhub website alone, nearly 6.83 million pornographic videos have been uploaded on the site in 2019 alone (which represents 14 videos per minute, 2.8 hours of content) and that no porn site dedicated to deepfakes generates the traffic of the Canadian platform. Proportionally, deepfakes represent a marginal activity for the industry, which is certainly only concerned about image and copyright infringement issues. The fact remains that for the victims of deepfakes, the violence of finding one's face on the body of an actress is very real and deserves to be eradicated. READ THE ARTICLE →
But first, it should be remembered that a majority of the deepfakes produced today are deep-porns. Last October, Sensity.ai, a company specializing in the detection of deepfakes and synthetic media revealed that nearly 100,000 women had seen their image used in deep-porns 2Thousands of women victims of a deep-porn-generating bot on Telegram, journalism. design, October 21, 2020 which then circulated on a Telegram network. A case that echoes other news of the same kind, in Korea (with the Nth Room 3The Nth Room of deepfakes as a weapon of sexual exploitation

, journalism. design, July 4, 2020) or in Japan and that affects many women, victims of real criminal networks. The rest of the deepfakes are those we see on the web or on television. The most elaborate, the most elegant, the most memorable deepfakes.
DEEPFAKES SEDUCE NGOS MORE THAN POLITICAL SUPPORTERS
We were expecting deepfakes to arrive in politics rather noisily. Some had even bet on an Infocalypse before the American elections. The catastrophe was avoided, and by far. The campaigns of the main candidates did not broadcast ambiguous deepfakes. Joe Biden was the victim of two or three more or less convincing productions, but none of them were able to reshuffle the cards of a campaign already strongly affected by COVID-19. On the other hand, Donald Trump himself broadcast some of them, giving some of his visibility to these improbable productions. Yet, as early as January a clear code of conduct 4Members of the House Are on Notice: No Tweeting Deepfakes, Lawfare, Evelyn Douek, Quinta Jurecic, Jacob Schulz

, January 30, 2020 had prohibited members of the House of Representatives from tweeting deepfakes. A good practice that the president of the United States could have followed. But no, in April, Donald Trump retweeted a video mocking a distorted and grotesque Joe Biden.
A few months later, on the occasion of George Floyd's tragic death on May 25, Winnie Heartstrong, an obscure candidate for the Missouri Republican primary nomination, published a document mixing conspiracy theory, deepfakes and pseudoscience 5George Floyd and deepfakes: Winnie Heartstrong's crazy theory, journalism. design, 27 June 2020 to – according to her – prove that the story never happened. While Heartstrong has obviously not been able to gain access to serious local and national media, she has spoken out about it on numerous radical right-wing websites and podcasts, familiarizing listeners and readers with deepfakes in the worst possible way. In her wake, there have been numerous mentions of deepfakes on social networks by users questioning videos of police violence during the Black Lives Matter protests, some of them by minor politicians.
On the African continent, several parties or opposition movements to regimes in place have directly used or indirectly exploited the publication of crude deepfakes to weigh politically in the debate, as in Gabon in 2019. This year, France, through its ambassador to Cameroon, was in the middle of a small battle between the opposition and President Biya. In Algeria, the recent convalescence of President Tebboune and his video return 6The "real" President Tebboune would have made a "surprising" appearance! le7TV, December 13, 2020 has raised questions and some have argued that it was a deepfake. In India, it was the leader of the Delhi Bharatiya Janata Party, Manoj Tiwari, who asked for two deepfakes, one in English and the other in Haryanvi, both taken from a speech in Hindi, to reach voters more directly.
In another area of political action, associations, interest groups, and other activist groups are using deepfakes to get their message across with varying degrees of success. In Belgium, the local Extinction Rebellion group published a deepfake of Prime Minister Sophie Wilmès 7Extinction Rebellion seizes deepfakes, journalism. design, April 15, 2020 in April to get her to support a number of measures to fight global warming.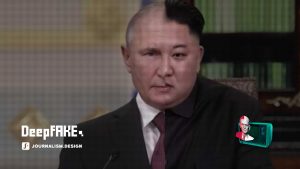 Advances in text-to-speech and HD deepfakes fabrication are sure to prompt more and more communications agencies to offer compelling deepfakes to NGOs or second-tier political parties to develop a relevant political message. Represent.us, an American activist NGO released a few days before November 4th in the United States, two deepfakes showing Kim Jung-Un and Vladimir Putin 8The deepfakes of Putin and Kim Jong Un by Represent Us, journalism. design, October 3, 2020 mocking American democracy and its state of decay. Videos that TV channels have refused to broadcast and many have criticized because of the possible confusion they could create in the minds of some viewers. As we can see, it is a question of finding the fine line between illusion and manipulation and we will have to be attentive to the reception of these campaigns in the future. They will tell us a lot about our capacity to accept content manipulated by algorithms.
DEEPFAKES POPULARIZED BY TELEVISION AND MOVIES
This will certainly be a lesson of this year, the traditional media are still strong and have a significant power of exposure. The two deepfakes that popularized the genre at the end of the year are directly or indirectly impacted by television. Queen Elizabeth 2 is placed in front of Luke Skywalker, that's the (unlikely) ranking that Google Trends gives us. The deepfake broadcast by Channel 4 with the actress Debra Stephenson as the Queen caused strong reactions across the Channel because of its irreverent and provocative side. It was a reminder to every one of the power of images and the dangers of manipulation, says Ian Katz to the Guardian. A failure that could have led some to think that it was the real Queen, as was the case with the deepfake of Extinction Rebellion in Belgium.
Second in the ranking, the enhanced version of Luke Skywalker's appearance in the final episode of Mandalorian season 2 made by Sham00k. Again, a mass phenomenon surrounds this last episode awaited by the fans. Many saw Mark Hamill 9Mark Hamill is the interpreter of Luke Skywalker throughout the Starwars saga raving about the new face of Luke played by Max Lloyd-Jones, but it was clear that a deepfake version would very quickly "correct" the casting by reverting to Hamill's face as it was in the original trilogy.
In both cases, the basic material used to make the deepfakes was known to a large audience, had a topicality, and had a strong relay from a media (Channel 4, the sponsor) or from the community (Star Wars and Mark Hamill). Throughout the year, we could see here and there attempts to use deepfakes by television. The television industry does not only serve as a sounding board for deepfakes, it also uses them on a regular basis through satirical programs 10on TF1, C Cantelou for example, or in Italy satirical programs with Gerry Scotty or more recently to replace an actress placed in quarantine because of COVID-19. It is indeed on France 3 in Plus Belle La Vie that a faceswap between the actress Laura Farrugia and Malika Alaoui, a regular actress of the series, allowed to continue the shooting and the broadcasting of the episodes 11Plus belle la vie : un épisode utilise l'effet spécial du "deepfake", France 3, November 18, 2020.
Sassy Justice 12Sassy Justice, journalism. design Instagram by South Park writers Matt Stone and Trey Parker was developed entirely on the use of deepfakes to mock Donald Trump and his ragtag Areopagus. Deepfakes also inspire some directors as in Face-swap where a couple lives their sexual phantasms with the help of video projections of digital faces 13 Sci-Fi Short Film "Face Swap" | DUST, September 3, 2019. The recent Hollywood productions Gemini Man with Will Smith 14Gemini Man-Will Smith-Why in CGI?, Deepfake for Fun or The Irish Man by Martin Scorcese 15De-aging Robert Deniro in The Irishman [DeepFake], Sham00k could benefit from the technical advances provided by deepfakes and there is no doubt that large-scale production will quickly seize the technology to improve its special effects. Peter Cushing, who died in
This is where the switch takes place since the use of deepfakes raises a number of questions not negligible. Why use deepfakes? To rejuvenate an actor? 16David Hasselhof deepfake de-aging, Chris Ume, 16 September 2019 | Jim Carrey anti-aging deepfake, Deepfake McFakerson, 9 August 2020 To resurrect the dead? 17Deepfaking Tarkin & Leia in Rogue One: A Star Wars Story [4K], Sham00k, December 8, 2020 Or to replace one actor by another, preserving the continuity of the characters in the successful franchises? 18Harrison Ford in Solo: A Star Wars Story [DeepFake], Sham00k, August 16, 2020
Who will own the image that is created? Will the studios be the only masters on board? Will actors and actresses have an interest in having their faces scanned regularly to build a ubiquitous career like what happens to Robin Wright Penn in Ari Folman's film, The Congress 19The Congress , by Ari Folman after a novel by Stanislaw Lem, 2013 dispossessed of her image for the benefit of an American major? And what will happen to the diversity of interpretations, faces, incarnations? What will happen to the stories we tell ourselves and their characters? Will they be eternal repetitions of actresses and actors whose heirs will manage their posthumous trajectories?
The deterioration of the economic conditions of the film and audiovisual industry following the COVID-19 pandemic will inevitably lead to a reduction in revenues and therefore future budgets, thus favoring the adoption of this emerging and promising technology at the origin of deepfakes. If an enlightened amateur can make spectacular videos in his living room based on archives he doesn't own the rights to, imagine what a studio can do with the whole production chain and the catalog at its disposal.
The foreseeable multiplication of future productions including synthetic media will lead to increased exposure of the public to a new aesthetic whose effects are barely measured. It is necessary to remember what provoked the covers of photoshopped feminine magazines on young women to understand that we touch here something vital. It is the expression of art that will certainly be violently impacted, but also our intimate and collective representations.
A BENEFIT FOR DOCUMENTARY AND JOURNALISM
This year also saw the release of Welcome to Chechnya 20 read the article on Welcome to Chechnya , by David France released onJune 30,2020 the documentary by David France produced by HBO films that innovates by using deepfakes as a protection device for the protagonists .Persecuted and pursued by the Chechen authorities, members of the LGBTQIA community try to escape from Chechnya to rebuild their lives in safety. Throughout the film, we follow about twenty characters who hope to cross the border, camera in hand, the director transports us into their intimacy and makes us vibrate with them. Without digital masks, it is certain that the empathy that the viewer can develop over the minutes would not be what it is with Welcome to Chechnya. In this case, the digital mask not only protects, but creates an intermediary that allows us to recognize ourselves in the other, that allows us to understand the anxieties and fears, the sorrows and moments of joy
Well-used, synthetic media allow journalists to innovate. One can easily imagine the replacement of voices or faces to protect the sources who wish to testify. One can also imagine reconstructing an event that never happened as MIT and the director Francesca Panetta assisted by the studio Canny AI did this year in the film In Event of Moon Disaster 21In Event of Moon Disaster – complete film, by Francesca Panetta, July 20, 2020 which shows a resurrected Richard Nixon giving the speech that had been prepared for him in case of an accident of the astronauts Neil Armstrong and Buzz Aldrin on the moon. Historical reconstructions on the basis of documents, but also realistic reconstructions of events will most probably be possible (provided that the financial means of newspapers allow it). The field of verification of false information will obviously be turned upside down if videos manipulated by artificial neural networks were to multiply, become more complex and enter the field of information. The genie being out of the bottle, I doubt it will not affect this sector of activity.
A TURNING POINT, BUT WHERE TO?
This year 2020 marks the first turning point in the recent life of deepfakes and of the whole synthetic media. Their subtle, still discreet, propagation within key creative industries has awakened a few neurons (quite natural ones) and there is no doubt that more and more enthusiasts will look into how to make these new kinds of media. Today's pioneers will in a few years be veterans of a new creative field that will daily wield algorithms and creativity to offer us a new visual imagination, a modern, digital narrative, altered by sophisticated artificial neural networks if nothing else.
To be widely adopted, technology must be easily understandable, propose something new but coherent with the existing and be able to be used by the greatest number. The rest is a matter of time and opportunity. There are no major obstacles to the adoption of techniques and technologies that allow the production of synthetic media. Qualitative improvements can be made and the performance of algorithms will undoubtedly follow the upward curve of the computing capacities of computers and our smartphones.
But this evolution, which seems unstoppable, leads us where and how? What will be the media landscape of tomorrow if we cannot be sure of the authenticity of any document? How can we serenely envisage this future without even asking ourselves what it will be? The next big turning point will be the qualitative convergence of synthetic voices with faked videos. It would be good if we had thought in the meantime about what we will want to do with these new powers that will be given to us.
Notes :

↑

1
Search trends on the query deepfake and on the query fake news, Google Trends, December 2020

↑

2
Thousands of women victims of a deep-porn-generating bot on Telegram, journalism. design, October 21, 2020

↑

3
The Nth Room of deepfakes as a weapon of sexual exploitation

, journalism. design, July 4, 2020

↑

4
Members of the House Are on Notice: No Tweeting Deepfakes, Lawfare, Evelyn Douek, Quinta Jurecic, Jacob Schulz

, January 30, 2020

↑

5
George Floyd and deepfakes: Winnie Heartstrong's crazy theory, journalism. design, 27 June 2020

↑

6
The "real" President Tebboune would have made a "surprising" appearance! le7TV, December 13, 2020

↑

7
Extinction Rebellion seizes deepfakes, journalism. design, April 15, 2020

↑

8
The deepfakes of Putin and Kim Jong Un by Represent Us, journalism. design, October 3, 2020

↑

9
Mark Hamill is the interpreter of Luke Skywalker throughout the Starwars saga

↑

10
on TF1, C Cantelou for example, or in Italy satirical programs with Gerry Scotty

↑

11
Plus belle la vie : un épisode utilise l'effet spécial du "deepfake", France 3, November 18, 2020

↑

12
Sassy Justice, journalism. design Instagram

↑

13
Sci-Fi Short Film "Face Swap" | DUST, September 3, 2019

↑

14
Gemini Man-Will Smith-Why in CGI?, Deepfake for Fun

↑

15
De-aging Robert Deniro in The Irishman [DeepFake], Sham00k

↑

16
David Hasselhof deepfake de-aging, Chris Ume, 16 September 2019 | Jim Carrey anti-aging deepfake, Deepfake McFakerson, 9 August 2020

↑

17
Deepfaking Tarkin & Leia in Rogue One: A Star Wars Story [4K], Sham00k, December 8, 2020

↑

18
Harrison Ford in Solo: A Star Wars Story [DeepFake], Sham00k, August 16, 2020

↑

19
The Congress , by Ari Folman after a novel by Stanislaw Lem, 2013

↑

20
read the article on Welcome to Chechnya , by David France released on

June

30,

2020

↑

21
In Event of Moon Disaster – complete film, by Francesca Panetta, July 20, 2020