While the video of @deeptomcruise was shaking the whole internet, other deepfakes, real or imaginary, are questioning the court's ability to distinguish reality from its manipulated version, on both sides of the Atlantic. From Versailles, France to Pennsylvania, USA, deepfakes are challenging judges. Let's take a look at these two atypical cases.
❋
It wasn't long before a lawyer (in this case David de Stefano) pleaded his client's good faith by invoking the excuse of deepfakes. This is what happened in France during the trial of Dieudonné M'bala M'bala in Versailles last November when the ex-humorist was tried for contempt of court 1Dieudonné, en procès pour une vidéo où il s'en prenait à une magistrate, se dit victime d'un trucage, Ouest-France, March 2021. It's hard to be surprised – when you know Dieudonné's character – that such an excuse would be invoked in a French court of law, but this line of defense still deserves to be considered.
It is the first time that an author invokes deepfakes in a french legal case.
We are witnessing the first introduction in France of the notion of synthetic media as a credible argument in the framework of a defense system. There is no doubt that the jurisprudence of this decision (expected in mid-April) will be a milestone since, if the case is dismissed, the deepfakes will immediately be validated as a defense argument. If not, reasonable doubt will still have been allowed. The authenticity of a video document can now be disputed on the basis of a possible alteration or manipulation through a specialized algorithm. This is what we call the liar dividend.
A strange case in Pennsylvania
🚨 UPDATED MAY 14, 2021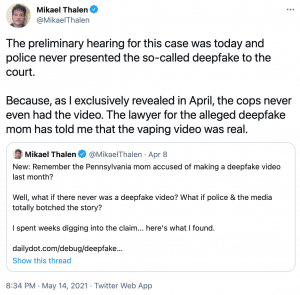 As the trial of Raffael Spone starts today (May 14, 2021), it seems that the police were not able to provide the alleged "deepfake" the mother of the family supposedly produced. And for good reason, it might not exist according to Mikael Thalen, a reporter at the Dailydot. The lawyer's mother has indicated to the reporter that the video was true and that Madi Hime has, in fact, lied to hide her behavior.
In the United States, it is another story that is at play. Raffaela Spone (as seen in the header picture of this post) is accused of having harassed three teenage girls with manipulated images to make them abandon their position in the local cheerleading team of Bucks County, Pennsylvania. The case seems to be taken very seriously by the local authorities as the mother is facing up to a year in jail.
Spone, a native of Chalfont, Pennsylvania, allegedly manipulated several photos captured on social media of the young victim as well as a video showing one of her vaping. According to the Inquirer, detectives 2A Bucks County woman created "deepfake" videos to harass rivals on her daughter's cheerleading squad, DA says, the Inquirer, Vinny Vella, Updated: March 12, 2021-5:30 PM the videos analyzed would be deepfakes. Expert Robert D'Ovidio, associate professor of criminology and criminal studies at Drexel University also mentions this scenario 3Bucks County mom allegedly created deepfake videos to harass daughter's cheerleading rivals, 6 ABC, March 16, 2021.
A video showing Madi Hime, one of the young victims vaping, appeared in a Channel 6 ABC report a few days after the case broke. In that video, a young woman looking like Ms Hime can be seen vaping, with a wisp of smoke passing in front of her face. It is difficult to say without a thorough examination of the video that it is a deepfake. Nonetheless, we know that to reach a certain level of credibility, the creation of a deepfake requires a database of high-resolution images of the face that we want to implement, as well as the possession of computer equipment and special knowledge in the CGI field 4 Chris Umé: How I created @deeptomcruise, journalism.design, 2021. As far as I know, no app available on an entry-level consumer device can currently automatically generate the type of video that can be seen above and it is unlikely that it is a deepfake.
Grey's area and doubt are trending
Whether they are true or instrumentalized, synthetic media are slowly but surely creeping into the public sphere. Whether through entertainment videos or news stories, an increasingly large audience is being exposed to this new term "deepfake". The potential of encountering a deepfake is becoming greater in everyone's mind, even if in reality, it remains very hypothetical and circumscribed for the moment to a limited circle of productions.
That synthetic media can be invoked as a credible means of manipulating video content. That this argument is received with all possible seriousness and that means are implemented to verify the authenticity of a media. All of this shows how the doubt that creeps in can cause more damage than the deepfakes themselves.
A quick look at Google Trends clearly shows that the number of queries about deepfakes has surpassed the number of queries about fake news, which reflects both greater exposure to the term and a growing interest in the phenomenon.
Notes :

↑

1
Dieudonné, en procès pour une vidéo où il s'en prenait à une magistrate, se dit victime d'un trucage, Ouest-France, March 2021

↑

2
A Bucks County woman created "deepfake" videos to harass rivals on her daughter's cheerleading squad, DA says, the Inquirer, Vinny Vella, Updated: March 12, 2021-5:30 PM

↑

3
Bucks County mom allegedly created deepfake videos to harass daughter's cheerleading rivals, 6 ABC, March 16, 2021

↑

4
Chris Umé: How I created @deeptomcruise, journalism.design, 2021